Right around the corner from the finish of Indian Wells, here we are in Miami for the Sony Ericsson Open, ready for yet another invigorating Masters 1000 tournament. Can Novak Djokovic defend his title from last year? Can Roger Federer continue the run of success he has had with the Indian Wells-Miami double? Those two questions and many more will be answered on the tennis court in the sunny tennis hotbed that is South Beach.
Top Half
Novak Djokovic's Quarter:
Right off the bat, the #1 seed has a potentially difficult opponent on his hands in the Cypriot, Marcos Baghdatis. Djokovic should definitely win that one but it is not an easy match by any means. After that, Novak would likely face his countryman Viktor Troicki, who, if basing off past history, should fold like a fresh set of laundry for Djokovic. In the 4th round, he will most likely face Richard Gasquet or Feliciano Lopez. In the quarters, a clash with Juan Martin del Potro or David Ferrer most likely awaits. Speaking of del Potro, he has a very tough path to the quarters. He plays Karlovic in the 2nd round, then perhaps Marin Cilic, then potentially Ferrer. Those are three tough matches to have in succession.
Roger Federer's Quarter:
Roger comes off the heels of Indian Wells with plenty of momentum and confidence, and he'll need it in Miami. Right away, he gets to face the young American Ryan Harrison. These two also met in Indian Wells last year, with Fed winning in straights. In the 3rd round, Roger will most likely meet Andy Roddick, which would also be a stern early round test. However, it's Andy Roddick, and Fed leads that head-to-head 21-2, so there is no real reason to worry. In the 4h round, the Swiss may meet either Gael Monfils or Juan Monaco, both of whom would challenge Fed but never really threaten him. The four likely opponents for his quarterfinal are Almagro, Fish, Verdasco, and Anderson. Fish is the highest seed, but I highly doubt he makes the quarters with the horrendous results he has had this year. My bet would be Almagro, who has played some great tennis this year and has loads of confidence.
Bottom Half
Andy Murray's Quarter
Andy starts his Miami campaign against Alejandro Falla. After that, he likely plays big Canadian and rising star Milos Raonic. This would be my early round upset pick, because Murray is very mentally fragile and Raonic is as solid as a rock on serve. If, and that's a big if, Murray gets through Milos, he likely plays Gilles Simon. Boy would that be a fun match to watch or what? Can you sense my sarcasm through those words? If he gets by that match, then he will play Tomas Berdych should the seeds hold up.
Rafael Nadal's Quarter
Rafa plays 57th ranked Colombian Santiago Giraldo in the 2nd round. In the 3rd, he will either play Radek Stepanek or Tommy Haas, and then in the 4th round, the highest seed he could face would be Kei Nishikori. They met last year in Miami, but Kei has come a very long way since then. In the quarters, Rafa's two likeliest matches are Jo-Wilfried Tsonga and Indian Wells finalist John Isner. The big American would be especially tough for Rafa, who generally struggles against the big servers.
--
2nd round matches to watch for:
Djokovic vs Baghdatis
Federer vs Harrison
Nalbandian vs Janko Tipsarevic (rematch of Indian Wells 3R)
Del Potro vs Karlovic
Ferrer vs Tomic
(Ferrer gets Dimitrov one week, Tomic the next week. Ha.)
Potential enticing 3rd round matches:
Dolgopolov vs Nalbandian/Tipsarevic
Simon vs Melzer
Federer vs Roddick
Almagro vs Verdasco
Fish vs Anderson
Murray vs Raonic
Del Potro vs Cilic
--
My Thoughts:
Roger has a very manageable draw and he could very easily make the semifinals if he plays as well as he did in Indian Wells (or even anywhere in the vicinity of that level). Harrison should be a good starter match for him to get into the tournament, and then from there I can't really see him getting hurt until the semis when he may play Djokovic. I'm expecting a semifinal performance from Roger, however, we know how confident he is right now and that could make all the difference in him coming through with the Indian Wells-Miami double, something he has not done since 2006. He is feeling very good at the moment, so a win is not out of the question, even with the slow playing conditions. The same was said about Indian Wells and we know what happened there.
Novak Djokovic NEEDS a win. A loss before the final here would almost guarantee he does not end the year at #1 (well not quite, but in my estimation, it will be very hard). He lost in the semis of Dubai and Indian Wells, losing points there, and if he loses points in Miami it will only put further pressure on him to win in Madrid and Rome, which will not be easy to do again. I noticed ever since Dubai that he has not looked the same as he did last year; he is playing a little too much defensively and he hasn't had the same "I'm unbeatable" mindset. A win in Miami would do wonders for his confidence, but I'm not sure he will. Even if we see a Federer/Djokovic semifinal, I would give the edge to Roger basing off the past few weeks (and we know Roger likes playing Novak more than say, Nadal).
I don't really have much interest in the bottom half, but I have a feeling we won't be seeing a Murray vs Nadal semifinal. I would love to see Rafa get taken out by Isner in the quarters. Actually, I guess I do have some interest in the bottom half of the draw because if Rafa loses before the semis and Roger wins the tournament, then Fed will be #2. So I would love to see Isner beat Rafa and then see Roger take home the trophy!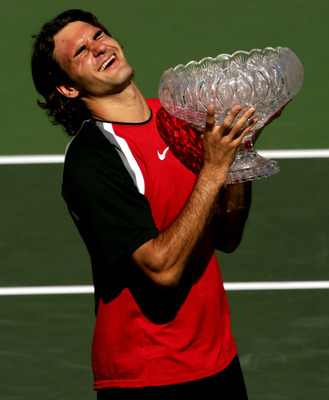 Would love to see this at the end of the tournament!
Hoping for another great tournament, and I wish Roger all the best!
Kyle.